The DUNCAN series pendant lamp features wood and metal finishes that allow it to blend in with many types of interiors. It will delight the most demanding customers.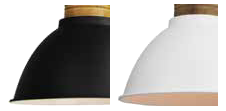 The lamp comes in two color options - white and black.
(Related Products.)
Dimensions
Diameter/width:

39 cm
Height of the lamp:

155 cm
Number of light sources:

1
Light source type: Classic or LED
Lamp socket type:

E27
Maximum source power:
60W
The lamp does not have a light source included.

Protection class:

IP 20